Dominus Winery by Herzog & de Meuron (Yountville, California, 1997).
Swiss architecture duo Herzog & De Meuron are equal parts mystery and legend. They are one of the most prolific and well-respected firms in contemporary architecture, yet they don't even have a website. (Best fact gleaned over the years: the pair met in kindergarten.)
Herzog & de Meuron's first project in the United States was Dominus Winery, a private commission in Napa Valley. The so-called 'stealth winery' is low-slung and horizontal, a typical building style in the area, with a trump card of a curtain wall: reinforced concrete and gabion cladding on steel tube frame supporting baskets filled with basalt rocks from a nearby canyon.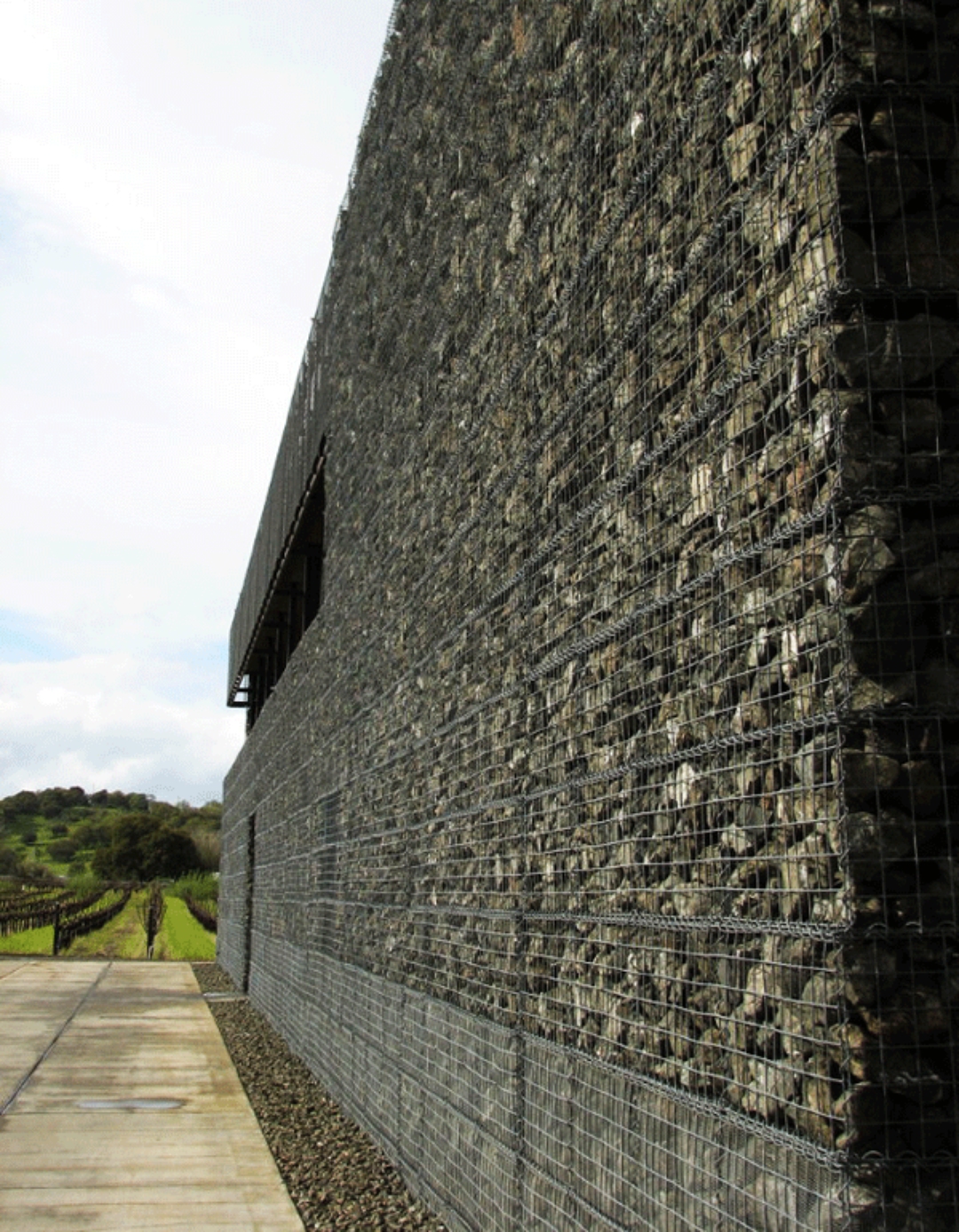 The stainless steel baskets on the facade are both an aesthetic and technical choice that typify Herzog & de Meuron's rich yet minimalist approach: "Generally used to retain dirt along highways," in this case the gabions moderate the extreme temperatures of wine-growing valleys north of San Francisco.
Jacques Herzog, upon winning the Pritzker Prize in 2001, compared their work to that of Andy Warhol: "He used common Pop images to say something new. That is exactly what we are interested in: to use well known forms and materials in a new way so that they become alive again … We love to destroy the clichés of architecture."
From

Architecture Week

:

"Variation in the wire mesh density and in the size of fill rock are finely orchestrated to a classical gravitational theme, with the strength of high-density mesh and close-packed rock establishing robustness at the base, then a middle then of more open mesh with close-packed rock for the main wall, capped by a top band with the more open spacing of larger rock."
Onto the Dominus descendants: